Carlos Alberola-López, PhD.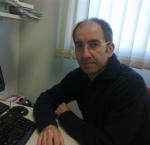 Full Professor (Catedrático de Universidad) with the ETSI Telecomunicación,
University of Valladolid
Publications of Carlos Alberola-López: [by year]
ETS Ingenieros de Telecomunicación,
Universidad de Valladolid
Campus Miguel Delibes sn. 47011 Valladolid, SPAIN
Tel: (+34) 983-423683, ext 5544. Fax: (+34) 983-423667
E-mail: carlos@lpi.tel.uva.es
[Scholar google][Personal Web]
Short Bio:
Carlos Alberola-López obtained his "Ingeniero de Telecomunicación" degree in 1992 and his PhD degree in 1996, both from the Universidad Politécnica Madrid. He was a visiting scientist in Dartmouth College (Hanover, NH, USA) in 1997 by means of a grant of the Spanish Ministry of Educationm under the supervision of Prof. George Cybenko. In late 1997 he became an assistant professor of the ETS Ingenieros de Telecomunicación of the Universidad de Valladolid, where he became a full profesor in 2007. In the period 2006-2010 he held the position of Vicechancellor at the University of Valladolid; he was in charge of academic affairs as well professor recruitment. He is currently the Head of de Depatment of Signal Theory, Communications and Telematic Engineering (TSCeIT), a position he holds since 2012. His teaching consists in subjects related to random signals processing. Specifically, he teaches a freshman class on Random Signals and Noise as well as a senior class on Estimation and Detection Theory. He has also been on two Master Degrees in signal theory and mathematical modeling. He has been the coordinator on one of these two master programs for a 2-year period. He is also member of the faculty of the TSCeIT PhD program; this program achieved the "mention of excellence" of the Spanish Ministry of Education in 2011. He founded the LPI in 1997; the first project consisted in a computer navigation system in 3D fetal ultrasound. Since then, the laboratoy has steady funds from national and regional research councils. The lab has also been part of two networks of excellence, namely, the SIMILAR NoE of the 6th FP and the VPH of the 7th. He is author of about 200 journal and conference papers and he has advised 7 PhD students, some of which are currently personnel of the LPI.